Parts of rural Wales could benefit from fuel discounts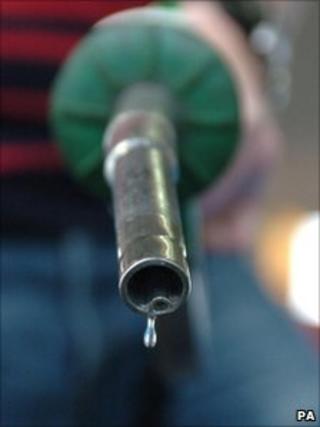 People living in rural areas of Wales could benefit from fuel discounts, according to proposals by the UK government.
There is a difference of as much as five pence per litre between rural and city garages in Wales.
Chief Secretary to the Treasury, Danny Alexander, said drivers in areas such as west Wales could benefit.
An independent petrol station body warned there may be no rural forecourts left in Wales in ten years.
The average price of unleaded fuel is currently £1.32 in Wales.
Mark Evans, who owns a filling station near Aberystwyth, said trade has been down by 40% since November due to high prices, leaving him facing closure.
"This is the last garage and shop in the village and we are going to be forced to shut down," he said.
"The rest of the business isn't a problem, just the fuel. We are running at a loss."
Forecourt closures
Brian Madderson, chairman of RMI Petrol, an organisation that represents independent petrol stations, said rural forecourt closures in Wales were high.
"I've been looking at statistics for closures and the rate of rural forecourt closures in Wales is 50% of all the closures," he said.
"That's more than double the rate across the UK so your rural sites are closing much faster and causing a lot of damage to economies.
"We can see by the end of the decade Wales probably having no rural stations at all, which is almost unthinkable."
Mr Alexander told the BBC's Politics Show: "We recognise that this for many families is a serious issue."
But he said a "fair fuel stabiliser", lowering duty when pump prices rose, would be tricky to implement.