Car customer from Neath died on test drive, court told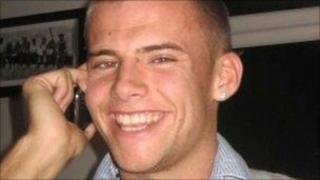 A man was killed when taken as a passenger on a test drive in a car he hoped to buy, a jury has heard.
Gavin Collier, 20, of Neath, travelled to Tenby, Pembrokeshire, to view the Peugeot hatchback.
Nathan Morris, 23, took him out for a test drive but crashed while allegedly travelling at up to 75mph in a 50mph zone, Swansea Crown Court heard.
Mr Morris admits causing death by careless driving but denies causing death by dangerous driving.
The jury heard that the Peugeot 106 had a faulty rear shock absorber which Mr Morris had been warned about in an MOT test before trying to sell the car.
James Jenkins, prosecuting, said: "Gavin was a car enthusiast and had spotted a car he had often wanted.
"Gavin contacted Morris and arranged to inspect the car and try it out with a view to purchase.
"It was driven on a road tested by Gavin but along the journey Morris took over behind the wheel.
"He was driving when the collision occurred."
Mr Morris, a trainee mechanic, allegedly lost control of the car as he tried to manoeuvre around a sweeping left hand bend while travelling at up to 75mph.
Mr Jenkins said: "The car slid round so the front passenger side hit a parked Isuzu Trooper vehicle.
"Morris took the bend too quickly in a car he knew to be defective."
Mr Collier died of his injuries in the crash on the A4139 near the seaside resort.
Mr Morris, who was injured, told police he was driving at only 50mph at the time of the collision, the court was told.
The trial continues.