Three Swansea cocaine dealers jailed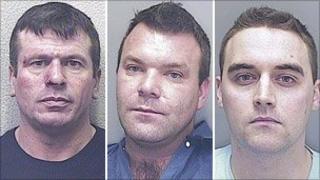 Three men have been jailed for supplying cocaine and amphetamines worth £500,000 in Swansea.
Marcel Edwards, Christopher Jones and Daniel Brett were arrested following a major police surveillance operation.
Edwards, 44, of Sketty Park, who Swansea Crown Court heard was the head of the gang, was jailed for seven and a half years.
Jones, 23, of Llansamlet, was jailed for four and a half years and Brett, 35, of Newport, for three years.
All had previously pleaded guilty to conspiracy to supply the Class A drug cocaine and Jones and Brett had also pleaded guilty to conspiring to supply the Class B drug amphetamine.
Tom Crowther, prosecuting, said the men were involved in bringing high-purity cocaine and amphetamine into Swansea for "dilution, packaging and onward sale."
Edwards was involved in obtaining the drug, cutting it and distributing large quantities.
The court heard he was the man who made the most money and drove a series of luxury cars, and he also hired premises and vehicles that were used by Jones and Brett.
Mr Crowther said a room at the Singleton Hotel was used as a "processing centre" where drugs were diluted, pressed and packaged.
Intensive surveillance
The room had been made available by Jones, whose mother ran the pub.
Jones, who helped dilute cocaine and amphetamine, was also involved as a courier, delivering drugs and collecting money.
Brett, who was also a courier, was arrested after police stopped his car on the M4 and found it contained a kilo of cocaine and almost 50k of amphetamine.
Mr Crowther told the court intensive surveillance began at the start of last year.
Judge Huw Davies QC said: "These offences are so serious that only custodial sentences can be justified."
Speaking outside court, Det Insp Michael Davies of the organised crime unit at South Wales Police said the drugs seized had prevented "tens of thousands" of future drug deals.
"I would say this is a significant positive impact on this area, and such was the network of this organised crime group, throughout Wales as well."