Neath Port Talbot Council pay drop 'a mature deal'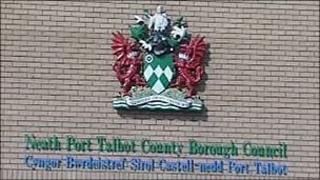 Staff at Neath Port Talbot Council have agreed to cuts in pay, overtime and travel allowances as part of the authority's cost cutting measures.
The 7,000 workers have accepted a deal brokered by managers and the unions.
Welsh local government leaders said it was a "mature agreement" which would help safeguard jobs.
The one-year agreement is aimed at minimising compulsory redundancies as the council looks to close a £24m gap in its budget by 2014.
Council leaders had warned staff they would dismiss and re-employ them on new terms if an agreement was not reached.
The council says it is the first authority in Wales to reach such an agreement.
Those staff earning more than £21,000 a year will see a one-off 2% drop in pay on top of a proposed three-year pay freeze.
The lowest earners will not lose any pay while "several thousand" staff will have a pay deduction of less than 2%.
There will also be cuts in overtime rates and mileage allowances.
Eddie Gabrielsen, regional organiser for Unison, which represents 3,000 staff at Neath Port Talbot Council, said the deal went through with a majority of about 2-1 in favour.
He said: "I can't say they are ecstatic about it, but they see it as a way of ensuring their employment for the future.
"There are some circumstances where you cannot do anything but make the redundancy but, in the main, the agreement is geared towards ensuring proper consultation before any outsourcing or other factors come in to play, where compulsory redundancies may be the end result."
He said the agreement was the staff's contribution to "get past the short-time financial situation the councils finds itself in - that the government has put it in".
He added: "We feel that the cuts by the government are too fast and do not allow councils to adjust properly."
Mr Gabrielsen said his members also expected councillors to make a contribution beyond declining a recommended increase in their allowances.
He said: "We would invite the councillors to look at their allowances in relation to taking percentage cuts on that."
Council chief executive Steven Phillips said: "This is a massive contribution towards safeguarding jobs in Neath Port Talbot.
'Very difficult decisions'
"We estimate that this package - immediately - will safeguard at least 110 jobs."
Steve Thomas, chief executive of the Welsh Local Government Association, described the move as a "mature agreement" which put the "real emphasis on saving jobs".
He said: "Nobody wants to be in this position. The trade unions are negotiating around hard fought terms and conditions.
"The problem is, as we know, the Westminster government's cuts programme is draconian that is having an impact on the assembly budget that is passed on to local authorities.
"The emphasis in the Welsh context is on saving jobs - we don't want to go the way of Manchester city council," said Mr Thomas referring to that authority's move to cut 2,000 jobs to save money.
"I'm not saying that Wales is the land of milk and honey - there are some very difficult decisions that councillors are going to have to take," he told told Saturday's BBC Wales' Good Morning Wales radio programme.
"There seems to be a Welsh approach emerging which puts the emphasis on saving jobs - and looking at terms and conditions to do that."