Carmarthenshire tries to lease £1m Garnant golf course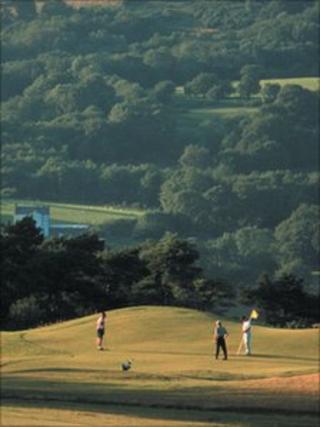 A private operator is being sought to take over a £1m municipal golf course, built on a former opencast mine, to secure its long-term future.
Carmarthenshire Council wants to lease out Parc Garnant which will make a loss of around £150,000 this year.
It has invited tenders as part of a review of its leisure services.
Garnant councillor Kevin Madge said he wanted to ensure it remained open to the public and did not become exclusively a private members club.
The 18-hole course and clubhouse was developed as part of the restoration of the 120-acre site after opencast mining ceased in 1992.
It was named best new course of the year in 2004 by the Golf Union of Wales.
It has a membership but is also open to the public on a pay-per-play basis with green fees from £10 a round.
Mr Madge, who is also a member of the council's executive board, said: "Over the last 10 years it has provided golf for a lot of people who would never normally have the opportunity to play.
"I know a lot of young people now play on a regular basis.
"What I would not want is a private course where the average person on the street could not play there."
Councils throughout Wales have been reviewing their leisure services.
A spokesman for Carmarthenshire said it had undertaken an audit of all its parks, leisure centres and other facilities.
"Where they are seen to be a drain on public funds or not providing council taxpayers with value for money they are changing their methods of operation," he added.
The council said it had received over 20 expressions of interest concerning the golf course with two firm proposals.
Mr Madge said: "There has been a lot of investment there and it is a great course with stunning views of the Brecon Beacons. There is a lot of potential there.
"If we did not get anyone that would be a worry.
"I am very hopeful in 50 or 100 years from now it will still be there and playing its part in the regeneration of the county."