Visitor ban at Swansea's Morriston Hospital eased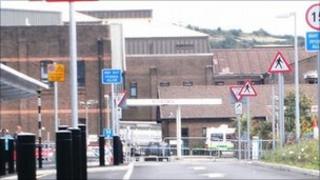 A ban on visitors which has been in place at Swansea's Morriston Hospital for over a week because of a winter vomiting bug outbreak is being relaxed.
General visiting is once again being allowed on 32 of the 39 wards where there are no norovirus cases.
Hospital managers say four wards are still closed to new admissions.
Visitors who have had symptoms of norovirus, flu, diarrhoea or vomiting in the last few days are still asked to stay away.
They had been stopped from entering wards - except in exceptional circumstances - since 2 January.
At the height of the outbreak seven wards were also closed to new patients.
This has been cut to four, although visiting is still not allowed on three others which have a small number of norovirus patients.
The wards still affected by the no visiting policy are wards S, CDU Medicine, D,G,V,A and B.
A spokeswoman for the ABM University Health Board said: "We apologise for any inconvenience these visiting restrictions have caused and thank patients and their families for their cooperation and support."