Timeline: The day of Margaret Ford's killing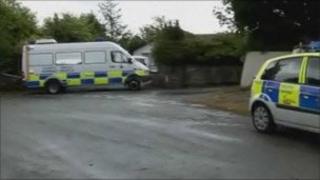 On 16 May 2009, the day Jarvis Ford stabbed his elderly mother Margaret to death, police and mental health workers attended the Pembrokeshire house they shared.
The report into the death of the 84-year-old at Templeton near Narberth said they had travelled home from a holiday in Cornwall two days earlier.
0249 GMT - Ford contacted police to report he may have raped someone whilst in Cornwall.
1025 GMT - Mrs Ford phoned the social services out of hours number to express concern that her son was not taking his medication.
Neither the mother or son were known to social services but the mental health worker who took the call assured Mrs Ford that he would contact the on-duty Crisis Resolution Home Treatment (CRHT) team.
He did so but was advised that they were out on call and to call back later that morning.
1100 GMT - Police officers attended the house and Mrs Ford told them her son had not been taking his medication and was hallucinating.
On checking, police found that no report had been made in Cornwall regarding a rape and so took no further action at that time.
1115 GMT - Social service worker phones Mrs Ford again and the police, who were still at the house, took the call and advised him Ford was not in urgent need of hospitalisation.
Shortly afterwards he spoke with the CRHT team and advised them to visit Ford as he was not taking his medication.
1200 GMT - A member of the CRHT team telephoned Mrs Ford and spoke with both her and the police.
It was agreed that a visit to assess Ford would be made.
1230 GMT Social services telephoned and spoke to Ford's sister.
She told them about her brother's behaviour and background history during similar circumstances in the past.
1330 GMT - The CRHT team arrived at the family home and carried out a mental health assessment of Ford.
Ford admitted he had not been fully compliant with his medication and that he was hallucinating and hearing voices.
The assessment record notes show that during discussions with Mrs Ford and her daughter they described Ford as "argumentative, aggressive, confused, unpredictable and not right."
1445 GMT - The CRHT team left with Ford having agreed to take his medication.
1650 GMT - Ford's sister again contacted social services concerned that her brother was deteriorating and "that the situation was escalating."
1710 GMT - Her concerns were relayed to the CRHT team.
1730 GMT - Team leader phoned Mrs Ford and when asked about the current situation she described her son as being "alright" and said she was "fine".
It was confirmed that the team would visit again the following day.
Immediately after speaking to Mrs Ford the team leader called Ford's sister to offer a further assessment that evening.
However, as she was told that it would not be possible for a doctor to attend, Ford's sister felt there was no point in a further assessment taking place that evening.
She said she feared that it would aggravate her brother's condition without removing him from her mother's house and "reluctantly agreed" to the CRHT proposal to defer the assessment to the following day.
1930 and 2000 GMT - According to an account made later by Ford the killing took place between this time.
2030 GMT - Telephone call made to the family home by the CRHT's healthcare assistant to advise that the team would visit the next day.
However there was no answer and so she left a message on the answer machine.
2143 GMT - Ford's sister phoned social services to say she had received a message from her brother that he had allegedly killed their mother and that she was en route to the house.
2213 GMT - Dyfed-Powys police contacted social services to advise they had launched a murder investigation and confirm Ford was being taken to hospital as he had allegedly taken an overdose of medication.