Carmarthenshire council backs student deportation fight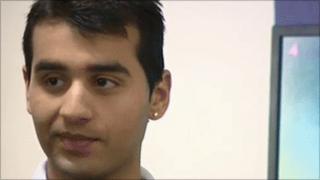 Carmarthenshire council will urge the UK government to allow a teenager due to be deported to Pakistan to remain in the county.
Ahmer Rana was smuggled into the UK aged 14 amid fears he would be killed by enemies of his father but has now been told he must return.
The UK Border Agency says now the A-level student has turned 18 there is no reason to offer him protection.
Councillors unanimously voted in favour of writing a letter backing his appeal.
Mr Rana, a pupil at Queen Elizabeth High in Carmarthen, was told he would be deported.
But a barrister has lodged an extension in the High Court so that an appeal can be made for him to stay in the UK.
'Inconsistent'
The teenager lives with his foster parents, John and Lesley Hillard, at Nantycaws, near Carmarthen.
More than 3,500 people have signed the petition and a Facebook support group has more than 1,500 members.
At a full council meeting on Thursday members of every political group backed a motion that the council send a letter in support of his appeal.
A UK Border Agency spokesman said both the agency and the courts had fully considered his case and had found he was "not in need of protection and must return to Pakistan".
"Mr Rana's claim was turned down by the UK Border Agency and then by an appeal court where a judge found that elements of his case were inconsistent and that he had failed to show that he faces persecution in Pakistan," said the spokesman.
"We would rather individuals like Mr Rana leave the UK voluntarily when they have no basis to remain here, but if individuals defy the decisions of the courts we are left with no choice but to enforce their removal."