Final service at St Marcellus Church in Pembrokeshire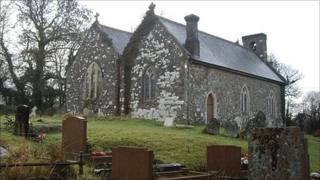 A church that stands on the route pilgrims took on their way to St Davids has staged its final service.
Worshippers have gathered on the site of St Marcellus Church in Martletwy for around 1,000 years.
With a congregation of just five, the church is due to be partially demolished and managed as a ruin with the graveyard still used for burials.
The church bell rung before the The Bishop of St Davids, the Right Rev Wyn Evans, took the final service.
Mary Sinclair, secretary of the parochial church council, said it was a sad day.
She said the church dates back to at least the 12th Century.
"We know the the Knights Hospitallers took it over in about 1150 but before that whether it was a Celtic church dedicated to a Celtic saint we don't know.
"We believe that the Knights Hospitallers, or crusaders, rededicated it to Saint Marcellus."
Martletwy was on an old pilgrim route to St Davids and the church was used by resting pilgrims on their journey.
Mrs Sinclair said the congregation had tried its best to keep the church going with services every fortnight.
They also staged an exhibition of the church's history last year to try and increase interest.
"There are five of us and we are the parochial church council," she added.
"We tried to encourage people in and they were very sympathetic but when it comes to it they can't commit."
The graveyard will still be used but the Diocese of St Davids has decided to absorb the congregation into Jeffreyston.