Tenby's Royal Playhouse Cinema closes its doors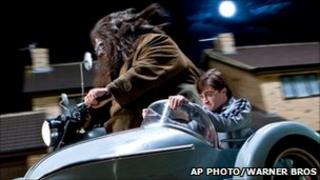 The Royal Playhouse Cinema, which has entertained holidaymakers in Tenby on rainy days for almost a century, has closed for good.
Manager Steve Williams said small independent cinemas could no longer compete with multiplexes.
He said he knew the writing was on the wall when only 12 people turned up for the opening night of the latest Harry Potter film just before Christmas.
"It's just the way a lot of single screen cinemas have gone," he said.
Mr Williams has been urging locals and visitors alike to use the cinema, which dates back to 1913, or lose it.
Now he said with the nearest screens at least 15 miles away in Carmarthen or Haverfordwest, there would be little indoor entertainment available at the seaside resort.
"We used to do well with the likes of Harry Potter and the big blockbusters and they would pay for the running costs for the rest of the year," he said.
"The final straw was when we had the latest Harry Potter on its release date and we had 12 people where normally we used to get three to four hundred."
A multi-screen cinema opened in Carmarthen as part of the St Catherine's Walk development last year.
Mr Williams said that development, along with a poor summer tourist season in 2010, had not helped.
"It's just no longer viable - it can't pay its way," he added.
There are plans for a new 160-seat cinema as part of the Royal Gatehouse Hotel redevelopment, but Mr Williams said that would need much more support from the paying public if it were to succeed.