Wales tops European heart surgery survival rate survey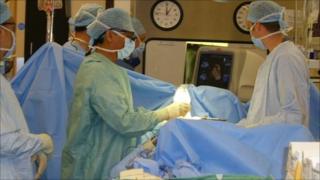 Surgeons have welcomed a study showing that Wales outperforms most of Europe in survival rates from heart bypass operations.
Across Europe, on average 2.4% of patients die following a bypass, but the figure is 1.1% in Wales.
Cardiac surgery is performed at two centres in Wales: Morriston Hospital in Swansea, and the University of Wales Hospital, Cardiff.
Surgeons said it was "excellent news" for patients in Wales.
The European Association for Cardiothoracic Surgery looked at data from more than 1m operations in 23 countries.
A number of countries including France, Denmark, The Netherlands, Austria and the Czech Republic did not participate
But of those that did the European average for patients who died following a bypass was 2.4%. It was 2.2% in Scotland, 1.8% in England and just 1.1% in Wales.
Together, Wales and England outperform the European average by 25%.
David Taggart, president of the Society for Cardiothoracic Surgery in Great Britain and Ireland, said: "The results confirm that cardiac surgery in the UK is amongst the very best in Europe and that mortality rates have fallen by half over the past five years as a direct result of the collection, analysis and publication of outcome data".
Dr Mark Ramsey, consultant cardiologist and clinical director for cardiac services at the ABM University Health Board which runs Morriston Hospital said: "This is excellent news for patients in Wales who find themselves in the difficult position of needing to undergo major heart surgery.
"Patients and their relatives can be reassured that they stand the best possible change of surviving their operation.
"The results are a testament to the skills and dedication of the clinical teams who are obviously delighted to learn of their success."