Clown's unicycle and balloons stolen in Swansea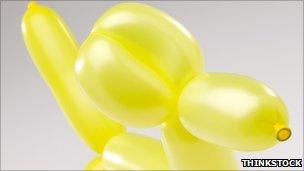 A clown is appealing for the return of his unicycle which has been stolen by thieves in Swansea.
Children's entertainer Uncle Sam lost the 6ft (2m) tall chrome giraffe unicycle plus 1,000 balloons for making balloon animals during a break-in.
He said it was worth little as scrap but would be hard for him to replace.
South Wales Police said they were investigating a break-in at an address in the Morriston area of the city.
Sam said he believed the £500 unicycle was stolen for its scrap metal value as the thieves also took copper wiring as well as the balloons.
"They can hardly use it to ride around on, so what else can they do with it?" he said.
"I'm just hoping with a public appeal it will jog someone's memory.
"I use it for carnivals and fetes more in the summer.
"It will be hard to replace. It's a specialist thing. You can't just go down the road to the unicycle shop."
Police said the theft occurred sometime between 31 October and 2 November.
Call South Wales Police on 101 or Crimestoppers Cymru on 0800 555111.
Related Internet Links
The BBC is not responsible for the content of external sites.