John le Carré opposes Swansea University language cuts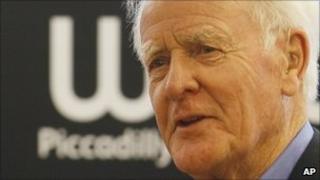 Best selling author John le Carré has joined a campaign opposing cuts to Swansea University's modern languages department.
Managers are consulting on plans to reduce posts from 22 to 10.
Le Carré, whose spy books including Smiley's People and Tinker Tailor Soldier Spy, said the changes were "contrary to all good sense."
The university said talks were ongoing in light of "acute financial and other challenges" facing the department.
Campaigners said the 22 academic staff teaching modern languages received a letter informing them their jobs were "at risk" and that they would have to reapply for a reduced number of posts.
It is proposed to reduce the number of French posts from six to four, in the German department from seven to three and a half, also halve the number of Spanish posts from five and lose Italian posts altogether.
Two new Welsh-medium posts would be created.
Le Carré has joined other best selling authors, politicians and Nobel Prize winners in condemning the changes.
In a letter sent to university vice-chancellor Richard B Davies, he wrote he was "greatly distressed" to learn of the plan.
"We have only to travel abroad to be shamed by the linguistic versatility of our European neighbours, as compared with our own ignorance of their culture and language," he said.
Genuine consultation
"As the so-called special relationship with the United States loses all practical meaning, and our membership of the European family becomes increasingly important to our nation's future, it must surely be contrary to all good sense to reduce the modern languages resources of your distinguished University."
Other prominent names campaigners said were backing them included crime writers Val McDermid and Andrew Taylor, Baroness Coussins, chair of the all-party parliamentary group on modern languages and Herta Müller and Elfriede Jelinek, authors and Nobel Prize winners.
A spokesperson for the campaign said: "We are delighted that John le Carré has joined the many other people who have spoken out against these damaging cuts.
"Languages have been designated a 'national strategic priority' by the Welsh Assembly Government, and the recent Browne review once again underlined their importance.
"Yet the Swansea proposals single out languages for the biggest cuts of any department in the university.
"These proposals are bad for students, bad for the university, and bad for Wales."
A Swansea University spokesperson said: "In light of acute financial and other challenges facing modern languages, the department's academic staff and trade union representatives are participating in a genuine and ongoing consultation with the university."
They said the aim was to agree "a revised academic strategy and institutional structure that addresses the current and future needs of this area of the higher education sector."