Security man denies manslaughter of Swansea shoplifter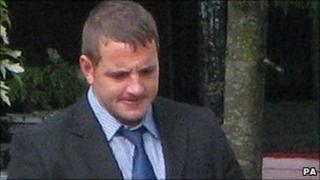 A security guard on trial for the manslaughter of a shoplifter he helped restrain has rejected claims he put him in a dangerous "'choke hold" head lock.
Sam Bawden, of Neath, said Aaron Bishop, 23, was "violent and erratic" after he was stopped.
Mr Bawden, 25, denies unlawful killing in Swansea city centre in July 2009.
He told Swansea Crown Court he was simply doing his job in restraining Mr Bishop, who he said showed "abnormal strength" while struggling to escape.
Mr Bawden was one of a number of security guards who pursued Mr Bishop after he stole a £35 bottle of perfume from a Debenhams store at the Quadrant shopping centre.
The jury heard Mr Bishop struck Mr Bawden in the face but the accused said it had not made him angry and he did not intend to cause Mr Bishop any harm.
The court heard Mr Bawden, who left school at 16, was of clean character, and had no previous convictions.
He explained he also worked as a doorman and had never hurt anyone in that line of work.
Restraint techniques
Defence barrister Elwen Evans QC asked him if he would describe himself as aggressive or violent to which he replied: "No, not at all."
He explained he had started work as a security guard because it was more "exciting" than his previous retail job, and at £7.85 per hour, paid more.
He said he had had courses in first aid, but had never been taught restraint or hold techniques.
Referring to the incident in which Mr Bishop died, Ms Evans asked him: "Why did you go after him?"
He replied: "Because that's what I was trained to do, that was my job."
She asked: "Did you want to be involved in some kind of physical struggle with him?
"No, not at all," he replied.
He said Mr Bishop was "erratic and violent" when caught.
"The last thing I believe he wanted to do was go back to the store and face up to what he had done," added Mr Bawden.
He denied claims by a witness he had put Mr Bishop in a "choke hold."
'Trick'
Mr Bawden told the jury he believed Mr Bishop's claims he could not breathe were part of a "trick" to try to get away.
He also dismissed suggestions he had ever restrained Mr Bishop around the neck and claimed he continued struggling until police arrived.
"Obviously, in my opinion you have got to breathe, and the fact that he was still struggling, violent and aggressive, the fact that he was still shouting, I came to the conclusion that he was trying to trick us," he said.
He added: "I never thought that he was in physical distress at any point.
"If I had honestly believed that he was in any sort of physical distress I would have assisted him, helped him, eased off him. Personally, I thought we had a duty of care to him."
Under cross examination by the prosecution, Mr Bawden again denied that he had ever obstructed Mr Bishop's throat.