Ceredigion Council agrees road gritting cutbacks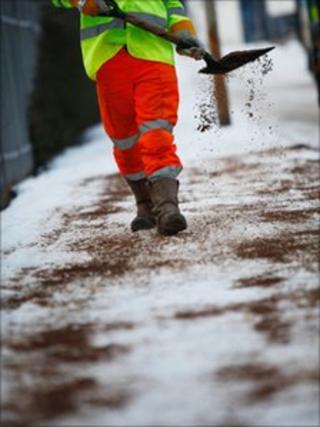 Ceredigion council has agreed plans to cut by 12 the number of roads it grits in winter.
The proposals would see about 30 miles removed from its winter gritting route and have angered by some locals.
The council said the plans would save £52,000 a year but would only apply to pre-gritting roads before snowfall.
Speaking before the vote, Keith Evans, leader of Ceredigion council, said: "We tend to grit more than the neighbouring authorities."
Ceredigion council has said salt bins will be provided in those areas earmarked for cuts for people to use.
BBC Wales' mid Wales reporter Simon Pusey said: "The plans are a surprise to many people after last winter's heavy snow caused so much disruption."
Villagers at Llangeitho near Tregaron, which would be affected by the cuts, told BBC Radio Wales they feared being "isolated" and described the proposals as "incredibly worrying".
David Evans, the local county councillor for the ward of Llangeitho, told BBC Radio Wales: "Last year was extremely bad. If it wasn't for gritters everything would have been at a standstill.
"People living in rural areas are aged people and would be drastically affected."
The vote follows a report which said the Highways Department needed to make savings of £80,000.
Currently, the council grits about 609 km (378 miles) of road, which represents about 27% of the road network of the local authority.
Keith Evans, leader of Ceredigion council, said the authority tended to grit more roads than neighbouring councils and would continue to grit on a needs basis.
He said: "We'll still be endeavouring to grit approximately 25% of the road network - this is more than many other local authorities in Wales."
Stock levels
Last week, Powys council said it would increase stock levels of road salt by 30% after last winter's big freeze.
Powys council warned at one stage last January that its gritting reserves were "critically low" and could run out if the bad weather continued.
This winter, salt levels will increase from 15,000 to 20,000 tonnes and a mothballed store at Presteigne will reopen and another created in Rhayader.
Mr Evans said Ceredigion council was also ordering more grit.
He said: "We're hoping to avoid a repeat of last year's harsh winter, but we are making sure we marshall all our resources to keep Ceredigion moving.
"The council policy will remain to keep the main arterial roads open - so that people can still reach ports, emergency vehicles can get around, food supplies can get through and people can get to work.
"There were a few difficult areas last year, but we kept all the main routes moving."