Shopper's plea to security guard over 'choke death'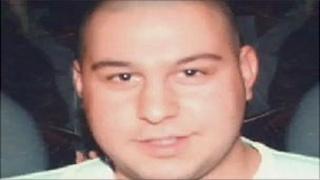 A shopper has told a jury how she pleaded with a security guard to release a shoplifter he allegedly choked to death.
Samantha Gregory told Swansea Crown Court she warned Sam Bawden he could kill 22-year-old Aaron Bishop, whom he had in a neck hold.
Mr Bishop died at the city's Quadrant centre last year after he was caught stealing a £35 bottle of perfume.
Mr Bawden, 25 and from Neath, denies manslaughter. The trial continues.
Mr Bishop, a former soldier who had acted as a Guardsman at Windsor Castle, was chased down by four security guards who held him in place awaiting the police.
Ms Gregory said: "His head was purple. He was being restrained by the neck and that was what was blocking his airways and changing his colour."
She said two men were holding his legs, a third was holding his arms and Mr Bawden had him around the neck.
"The man being restrained was not doing much physically," she added.
"His face was down on the floor facing the concrete. He was just trying to breathe."
Patrick Harrington QC, prosecuting, asked: "From what you saw, was the way he was being held around the throat appropriate?"
She replied: "It was definitely not the way. It was 100% not the way to restrain somebody around the neck.
"He was obviously pinned down by other men, he did not need to be held around the neck."
She said Mr Bishop was saying: "'Let me breathe. I cannot breathe'."
She said she became increasingly angry towards the security guard.
"I then think a manager approached me and told me that they were trained in restraint and they knew what they were doing," she said.
"That made me really angry because I'm not trained in restraint and I know you do not restrain someone like that."
She said of Mr Bawden: "The man heard me because he acknowledged me and told me it was none of my business and told me to bugger off.
"Whatever this man had done there was just no need for it at all. It was completely unnecessary.
"I expressed myself as strongly as I possibly could without actually doing anything. I was very, very angry."