Security guard 'unlawfully killed Swansea shoplifter'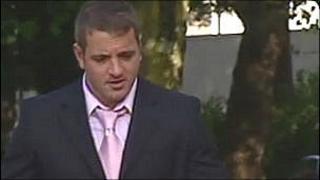 A shoplifter died after he was restrained by a security guard who grasped him tightly around the throat for 10 minutes, a jury has heard.
Sam Joshua Bawden denies unlawfully killing Aaron Bishop at the Quadrant centre in Swansea in July 2009.
The prosecution at Swansea Crown Court says Mr Bishop, 22, a former soldier, was held by five security guards on a gantry leading to a car park.
It is alleged Mr Bawden, 25, used "excessive means". The case continues.
Patrick Harrington QC told the court Mr Bishop had shoplifted a £35 bottle of Joop perfume from the centre's Debenhams store.
"The cost proved very high indeed," said the barrister.
Five security guards restrained him on a gantry leading to the shopping centre's car park, including Mr Bawden.
Mr Harrington said he "used wholly inappropriate and we submit excessive means to restrain Mr Bishop."
He told the jury Mr Bawden had grasped Mr Bishop tightly round the throat for a period of 10 minutes.
"At all times it was this defendant who was at the top end of the deceased, by which I mean head, shoulders and throat."
Mr Harrington said Mr Bawden was urged by passers-by to let go of Mr Bishop.
'Choke hold'
They variously described him putting Mr Bishop in a "headlock" or "choke hold", saying his face was turning blue and purple, and was covered in sweat.
By the time Mr Bawden released him, he was dead, the court heard.
Mr Bishop had joined the Welsh Guards in 2003, and in 2004 he had been due to serve in Iraq but a broken arm prevented that. Mr Harrington said after that "he went off the rails."
He got in trouble in his Army and civilian life, and he was discharged in 2005.
Sam Joshua Bawden, known to his friends as Josh, was employed by a company called Professional Security Management.
He is also an accredited door supervisor working at a nightclub in the city centre.
The trial continues.