Mourners turned away after Pembrokeshire burial mix-up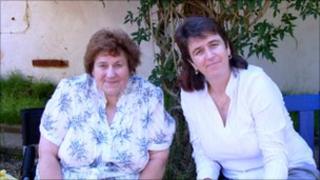 A grieving daughter has called for an inquiry after a clerical error meant her mother's grave was not dug in time for her funeral.
Mary Evans, 69, of Haverfordwest, was due to be buried at Honeyborough Cemetery in Neyland.
But daughter Andrea and relatives were turned away until a plot was eventually prepared four hours later.
Pembrokeshire Council has apologised for the error and says an investigation is underway.
But Miss Evans, 40, of Hill Mountain, has called for new measures to ensure no bereaved family has to go through similar trauma.
She said the mix-up on 15 September had left her father Ted Evans, 73, deeply distressed, and made the pain of her mother's sudden death even worse for her and sister Jane Berry.
She told BBC Wales: "It was horrendous. What was supposed to be a day of putting Mum to rest turned into a nightmare.
"We went from the church to the cemetery and stopped at the end of the lane where my parents live so she could say goodbye, only for one of the undertakers to tell us the council had forgotten to dig the grave."
The family, who had been due to witness a noon burial, had to take Mrs Evans' coffin back to the chapel of rest and wait four hours until the undertaker could persuade cemetery staff to proceed.
Miss Evans said: "Someone came round from the council. He was very apologetic and told us inappropriate things like we wouldn't incur any extra costs.
"If it had been up to them, they wouldn't have laid her to rest until Thursday.
"The undertaker was brilliant. He actually said 'you will dig this hole today, even if I have to do it myself'."
She said one of the most distressing problems had been that most of the mourners who had turned up to pay their respects either left in confusion as they didn't want to cause offence, or had not been able to make the later burial.
"That is what has been most distressing for my dad. He wanted to see who was there and thank them.
"He has lost his partner of 50 years and wife of 45 years unexpectedly and is in a really bad state.
"He keeps going over and over it."
'Complete mess'
Miss Evans said that although human errors did occur, more needed to be done by local authorities to ensure adequate checks were in place.
She added: "They got the wrong date but the whole thing was a complete mess.
"I don't want any other family to have to go through this again."
Pembrokeshire Council offered its apologies and said the mix-up was a one-off incident.
A spokeswoman said: "We very much regret the distress which has been caused to the family of the late Mrs Evans and we are extremely sorry for this mistake.
"Investigation revealed that as a consequence of an administrative error, the grave preparation had been arranged by the council for 16 September, the day after the funeral."
She said that, after arrangements were made to delay the burial until 4pm, a council officer visited Mr Evans at his home to offer a personal apology for the distress caused.
She said: "The officer was seeking to apologise on behalf of the authority at the earliest opportunity, and in a sensitive way.
"The circumstances were very difficult and we are sorry if the family were offended in any way.
"We are not aware of any other similar instances at cemeteries for which Pembrokeshire County Council is responsible.
"An investigation into this case is now underway."