Housing plans for former tip site in Cross Hands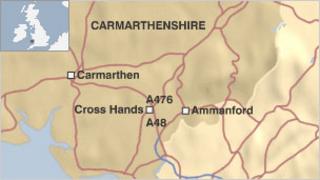 Plans are being submitted to build new homes, shops and community facilities in a village in Carmarthenshire.
Proposals for the development on a 23 hectare (57 acre) former tip site at Cross Hands, near Ammanford, are to be considered by Carmarthenshire council.
They include a new food store, medical care facility and improvements to existing school sports facilities.
Developers George LB said the regeneration would have "significant benefits" for the community.
Plans for the project, near to the A476 Llandeilo Road - the main route which runs through the village, have been submitted by property advisor Savills on behalf of George LB.
A public consultation event took place in June.
Improvements would be made to the Maes yr Yrfa school sports and playing facilities as well as local highways, said Savills.
The plans also include open space for the public and local community to use.
Geraint John, head of planning at Savills in Cardiff, said the project represented a major investment in the area.
"It has been designed so that the new facilities have excellent links to the rest of the village so it will boost rather than detract from the existing economy and community," he said.
Nick Maguire from George LB said the site had remained unused for many years.
"This regeneration would have significant benefits for the Cross Hands community by providing a wide range of new facilities and plenty of recreational space," he added.