Appeal after dog found in Neath with chemical burns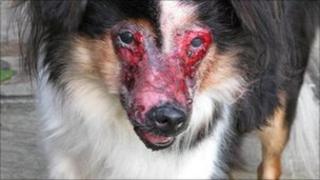 An animal charity is appealing for help to trace the owners of a badly burned dog found wondering near the M4 motorway at Neath.
Staff at the RSPCA's Llys Nini centre in Swansea have named the animal "Ella".
Vets believe she suffered chemical burns and she is due to have specialist treatment to try to save her eye sight and heal her burns.
What happened to her and where she came from is still a mystery.
Llys Nini spokeswoman Alison Lenihan said: "Ella is a mature sheltie or sheltie cross.
"We don't know if her injuries were caused by an awful act of cruelty or by accident.
"She has a lovely temperament and may be a stolen pet.
"We would like to reunite her with her owners and find the person responsible for her injuries should they have been caused on purpose."
Ms Lenihan said staff would like to thank everybody who sent donations for her treatment.
She added: "As yet we don't know the prognosis but thanks to the Ella Appeal we will ensure that she has the best of care to help her recover."
Anyone with information about Ella should phone the National RSPCA helpline on 0300 1234999.