Fire at Linamar Swansea car parts plant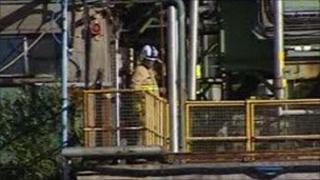 Fire crews have scaled down their operation at the Linamar car parts factory in Swansea after a large blaze overnight.
The blaze started in the workshop area, and spread to parts of the plant and the control room.
At its height 30 firefighters were called to the fire on Fabian Way just after midnight, but now just two appliances remain.
A fire service spokesman said 30 factory workers on site were uninjured.
Four pumping appliances, a foam tender, a turntable ladder and an environmental unit were initially called to tackle the fire.
The fire was in the "effluent plant" which takes fluids from the production area but quickly spread to a workshop.
Officers prevented the flames from spreading to a large oil storage tank and chemical storage area.
The Environment Agency and a specialist officer equipped to deal with hazardous materials and substances are at the scene.
Formerly owned by Ford and Visteon before being acquired by Canada-based Linamar Corporation in 2009, the factory employs 200 staff and is in the process of closing down.