Back to Swansea roots for Hollywood star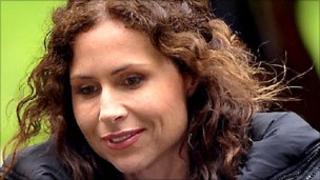 Hollywood actress Minnie Driver has returned to family roots to film her latest project.
Hunky Dory is a musical drama about a former West End star who turns to teaching, which is being filmed at a comprehensive school in Swansea and other city locations.
Driver's late father Ronnie was born in Swansea.
The 40-year-old has chosen to live in a surfer-style mobile home than a hotel during the shoot.
The film is set in Swansea in the summer heatwave of 1976, but the weather this August has been far more bracing.
As well as filming at Bishop Gore school in Sketty, involving local teenage extras, the crew have been on location in the Port Talbot area.
In the story, Driver plays a drama teacher who puts on a rock 'n roll version of Shakespeare's the Tempest, in the style of Tommy.
London-born Driver was Oscar nominated for her role in 1997 film Good Will Hunting and was recently seen in the BBC TV series The Deep.
The team behind Hunky Dory is Jon Finn, the man who produced Billy Elliot, and Welsh director Marc Evans, who worked together on My Little Eye.
It is due to be released next year.