'Designer' breast care unit opens at Llanelli hospital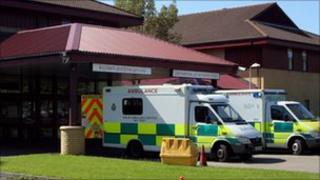 A £6.6m breast care unit aimed at improving and speeding up treatment is being opened at a Carmarthenshire hospital.
It will include extra consultation rooms, chemotherapy and surgical wards at Prince Philip Hospital, Llanelli.
It has six single en-suite "hotelling rooms" designed by Paul Carter, whose clients include Donatella Versace.
Health minister Edwina Hart will also open a new £10.3m emergency unit at Withybush Hospital in Haverfordwest.
The breast care unit, funded by the assembly government and £850,000 of public donations, is designed to make Prince Philip Hospital a centre of excellence.
It will also include lymphoedema services and treatment rooms.
Mr Carter gave up his time to work on the project after meeting the hospital's consultant oncologist Simon Holt at a charity auction.
Mr Holt said: "The benefits of a hotel-type stay are not only convenience and offer the best medical care, but also offers the best psychological support for patients recovering from breast cancer surgery.
"Breast cancer is now a curable disease for most women but it is important that we not only support women's physical recovery but give them the confidence to get back to a normal life as soon as they can.
'Reduces the anxiety'
"In a 'hotelling' environment they are encouraged to become independent, acting as a transition between hospital and home.
"Individual rooms improve infection control and patient privacy, but there are also communal areas where women can eat, watch television or talk together and support each other.
"This model of care also allows acute areas to be used more appropriately for those patients who really need greater levels of care."
Mrs Hart said: "The new breast care unit at Prince Philip Hospital will build on the hospital's reputation for breast cancer services and speed up diagnosis and treatment and reduce the number of visits to hospital.
"Swift diagnosis and treatment reduces the anxiety experienced by patients and their carers and will reduce the devastating impact that cancer can have on individuals and families and friends."
The new £10.3m emergency and urgent care centre at Haverfordwest is one of the first of its type in Wales.
It will offer a new service - called Urgent Care Pembrokeshire - bringing together emergency, urgent care and social services under one roof.