Bishop sorry for soldier's Carmarthen funeral sermon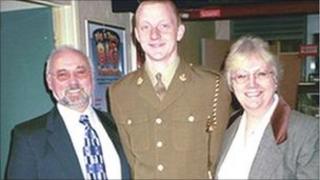 A bishop has apologised after relatives of a soldier killed in Afghanistan criticised his sermon at the funeral.
Bishop Tom Burns said sorry "without excuse or reservation" for any distress caused last Friday in Carmarthen to the family of Bombardier Samuel Robinson.
His father, Dennis Robinson, said the bishop made "political points" about funding and a lack of equipment" which in this case were "irrelevant".
Samuel Robinson's sister has also written to the bishop to complain.
Bishop Burns, of the mid and west Wales Roman Catholic diocese of Menevia, said in a public statement: "If what I said in my sermon added to Mr Robinson's distress, which I did not intend, I ask him to accept my apologies, without excuse or reservation."
Bombardier Robinson, aged 31, of 5th Regiment Royal Artillery, was killed in an explosion in the Sangin district of Helmand on 8 July.
He made four operational tours in Afghanistan, and played an active part in Operation Panchai Palang, or Panther's Claw, a major assault against the Taliban in Helmand ahead of Afghan elections.
At least 300 friends, well-wishers and family members attended his funeral last week.
In his sermon, Bishop Burns asked when "will those who take us to war ever learn?"
He said: "Cuts in funding and personnel, equipment, vehicles, helicopters, strategic planning and better military intelligence on the ground; these are cuts that are not the answer.
"For the military covenant implies a moral imperative.
"In return for a soldier's commitment and dedication, even unto death, a government will ensure that when it sends a soldier into conflict he will have everything he requires to complete his task."
Dennis Robinson told BBC Wales: "It was more the fact that he was making political points in terms of the funding and the lack of equipment which in this case was completely irrelevant.
"My son unfortunately was on foot patrol when he was caught by an improvised explosive device.
"No amount of funding and no amount of extra equipment would have saved him."
Mr Robinson added: "Because of what's happening in Afghanistan at the moment, I don't think it's unreasonable to say there are going to be more Welsh boys coming home as with Sam, and I think it's an absolute travesty for the bishop to trot out the same tired speech again and again".