Life-size dinosaurs take over Cardiff's Bute Park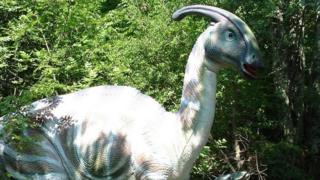 A 26m (85ft)-long diplodocus and a Tyrannosaurus rex are among more than 30 life-size dinosaurs that have taken over a Cardiff park.
The replicas have been installed around Bute Park in the city centre - and they even come to life with moving eyes, heads, arms and tails.
Children will also be able to dig for bones in an excavation area.
The two-week exhibition is part of the Jurassic Kingdom tour which is visiting five cities around the UK.
"It is the perfect chance for children to experience this exciting and educational tour," said Naz Kabir, of Jurassic Kingdom.