Begging ban to stop 'intimidation' at Newport cash points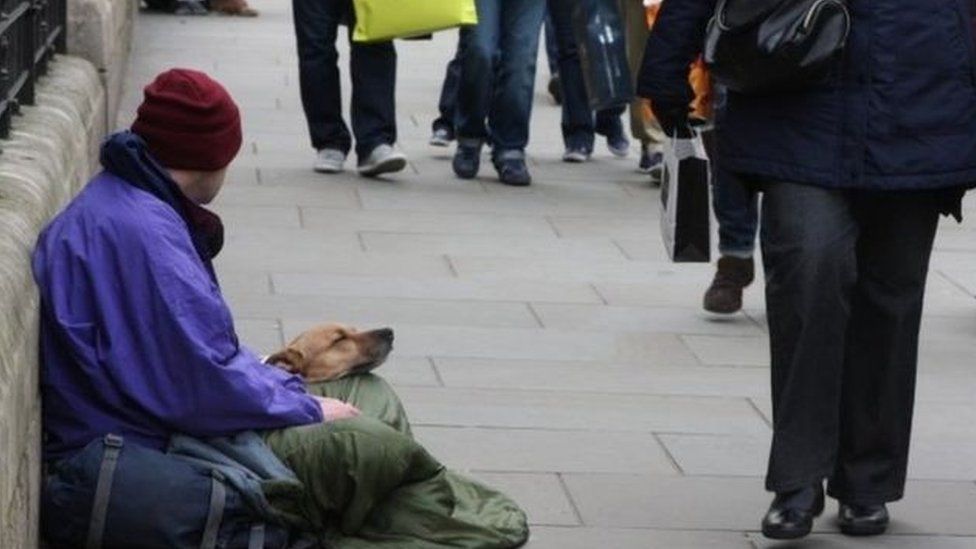 Aggressive begging near cash points could become the new focus of orders to tackle the issue across a city centre.
There is a blanket ban in force against intimidating begging in Newport - but that order expires later this year.
One civil liberty group warned the current approach was "cruel" and disproportionate.
The city agreed its first Public Spaces Protection Order (PSPO) back in 2015 to address issues such as anti-social behaviour, drinking alcohol in public, and keeping dogs on leads.
Under that order, all begging deemed aggressive or intimidating is outlawed.
But a new three year order must now be agreed, before the current measures expire in November.
The campaign group Liberty warned it thought a wide-ranging ban was not only "cruel" - it may infringe human rights and be illegal.
"If someone begs for money, that is not harassment or anti-social behaviour; that is a plea for basic compassion," the charity told the council.
But in a statutory public consultation carried out by the council, some people said they had experienced incidents where beggars had "reacted rudely" or "become verbally abusive when money was not given".
Some of the 61 people who responded said they could not walk through the city centre without being approached for money or cigarettes, while a small number of respondents specifically mentioned they found the begging intimidating.
They said they had experienced incidents where beggars had "reacted rudely" or "become verbally abusive when money was not given".
Kevin Ward, from the Newport Now Business Improvement District, is tasked with helping delivering city centre renewal.
He said the body was working with homeless charities to address rough sleeping and begging problems.
"We certainly have an issue with some people in the city centre who will spend most of their time walking up to people and asking them for money," he told BBC Wales.
"I think that some people can find that an intimidating experience."
But he said they did not support the current blanket begging ban.
"We don't think that is the right way forward. But we do support specific bans on begging within certain distances of cash points.
"Those are the places where people can feel quite intimidated, particularly after dark."
Lindsay Cordery-Bruce, from the homeless charity The Wallich, said it was important to tackle aggressive begging - but said that must not penalise those who already felt excluded from society.
"The poverty and the challenges that people are facing on on the streets have worsened. I think we are seeing symptoms running alongside that," she said.
"I think we need to understand that if someone is begging at all, then they are excluded from the mainstream labour market. Those people still need help."
She said the charity was receiving support from bodies like Newport Now, which has launched a project called Street Support to help channel funding directly to those who need it most in the city.
Related Internet Links
The BBC is not responsible for the content of external sites.