Councils on board to reopen Rhondda and Abernant railway tunnels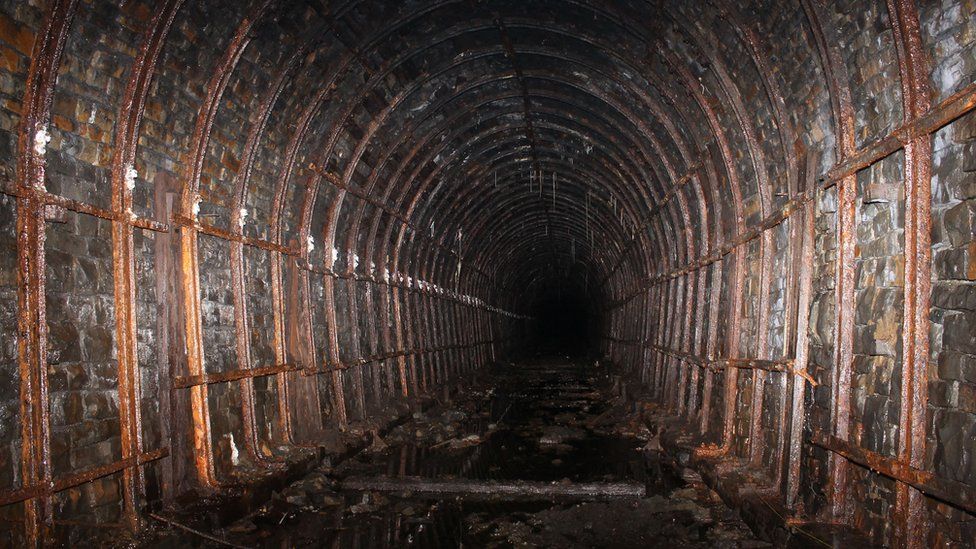 The reopening of two former railway tunnels to be used by walkers and cyclists has been backed by their local councils.
Campaigners have been working to open up the disused 1.8 mile (2.9km) Rhondda tunnel, which was built in 1890 to take coal to Swansea's ports.
Rhondda Cynon Taf council has said it will help to secure funding.
Council leader Andrew Morgan said he also wanted to see nearby Abernant tunnel open again to boost tourism.
He said he was working with neighbouring councils, Neath Port Talbot and Merthyr Tydfil, to try to make the ambition a reality.
The Rhondda tunnel, which runs between Blaencwm and Blaengwynfi, closed in 1968 and the entrances were buried in 1979.
But, following work by campaign group the Rhondda Tunnel Society, a new hatch was constructed at Blaengwynfi, in Neath Port Talbot's Afan Valley.
While Highways Wales is responsible for its safety, it is not allowed to reopen the tunnel.
But it is willing to transfer ownership to the Welsh Government or local authorities, Neath Port Talbot and Rhondda Cynon Taf.
RCT council has now officially supported the reopening of the Rhondda tunnel - which it says would create Europe's longest walking or cycling tunnel - as well as Abernant.
Council leader Andrew Morgan said he was committed to helping to find funding for the projects and would work with neighbouring NPT and Merthyr Tydfil councils to help boost tourism.
"If these two projects could be delivered side-by-side, Rhondda Cynon Taff would offer one of the most attractive and impressive active travel destinations in Europe, and probably a world first on this basis alone," he said.
"We have a real opportunity here, to deliver a game-changing project."
Councillor Anthony Taylor, deputy leader of NPT council, said the authority also supported the "ambitious project".
Steve Mackey, chair of the Rhondda Tunnel Society, said he was "thrilled".
"The society formed out of the interest aroused when the long-lost tunnel headstone was found in 2014, where it was later repaired and unveiled at Treherbert Station," he said.
"Now, it looks as if this is only a temporary resting place before the headstone returns to its proper home above the entrance to Europe's longest walking/cycling tunnel, and the tunnel can earn its keep once again."
Merthyr Tydfil council has been asked to comment.
Related Internet Links
The BBC is not responsible for the content of external sites.