Cardiff Council Rolls-Royce could go on show in England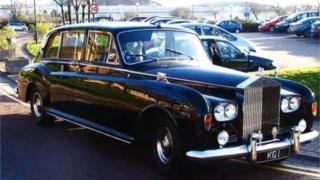 A Welsh council-owned Rolls-Royce kept in an underground car park for 16 years could go on display in England.
The 1963 Rolls-Royce Phantom - described by campaigners as Cardiff council's "crown jewel" - was last used in an official capacity in 2002.
It has been in storage under County Hall ever since, coming out just once a year for its MOT.
Councillors agreed to loan it to the National Motor Museum in Hampshire but have said it will not be sold.
The total cost of keeping the classic car in storage is unknown, but a Freedom of Information request revealed £590.85 had been spent on it over the last three years.
Campaigners have called for the "unique" car to be put on show, saying hiding it in an underground car park is a "tragedy".
It was last valued in February 2008 by the Rolls-Royce Enthusiasts Club at £70,000, while its number plate KG1 was said to be worth £100,000.
A report which went before the council's cabinet on Thursday said the authority was reluctant to sell the number plate, which dates back to 1904.
"Local authorities were, at that time, the licensing authorities and KG1 was the first registration number issued by the [former] Cardiff Corporation, KG being the local identifier for Cardiff," the report said.
The cabinet agreed councillors will "approach the National Motor Museum with a view to loaning the vehicle".
It would eventually be returned to Cardiff to be put on permanent display at an appropriate facility, the report added.
A Cardiff council spokesman said: "The council intends to approach the National Motor Museum in Hampshire so that the vehicle can be displayed temporarily until a suitable location can be found to show it in Cardiff, perhaps as part of the future expansion of the Cardiff Story Museum.
"The car is unique, as it has a silver dragon as an ornament on the bonnet of the car, instead of 'The Spirit of Ecstasy' ornament which is on other Rolls Royce cars.
"Special permission had to be granted from the company to make this modification."