Brecon soldier with Victoria Cross gets grave rededication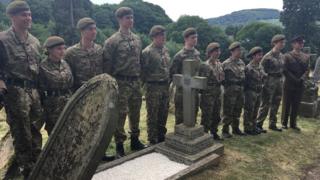 A Brecon school teacher awarded the Victoria Cross more than a century ago has had his grave rededicated at Monmouth cemetery.
Cpl William Allen's actions allowed patients to be evacuated from the field hospital during the battle of Rorkes Drift in 1879.
Cadets refurbished his grave after a visiting comedian noticed it had fallen into disrepair.
The hero was portrayed by actor Glynn Edwards in the film Zulu.
Cpl Allen received Britain's highest award for bravery for fighting to keep the communication lines open despite being severely wounded during the battle in South Africa.
After his wounds were treated, he fetched ammunition for soldiers as the battle raged throughout the night.
Cpl Allen was 35 when he received the Victoria Cross from Queen Victoria at Windsor Castle in December 1879 for his actions, after which he was promoted.
He served as an instructor with the 4th Volunteer Battalion in Monmouth and died in service.
Prior to his army career, he had been an assistant schoolmaster at the Brecon Barracks.
Ian Lawrence, Commander of the Combined Cadet Force at Monmouth School, said Cpl Allen was a fantastic soldier, but had a lengthy record for misdemeanours.
He said: "He wasn't a particularly decent soldier in terms of conduct, his conduct record was as long as my arm, he loses his stripe for drinking too much and abusing an officer.
"However he was taught to read and write by his Sergeant Major and he turned his life around".
Members of the Royal Welsh regiment and local cadets rededicated his grave on Wednesday after comedian John Martin noticed it was in poor condition.
"I visit some graves and they are spectacular, I just thought it was a real shame that this hero's grave had fallen into such disrepair," he said.
"It's amazing what they've done now."