Three friends and a dog trapped at Risca quarry rescued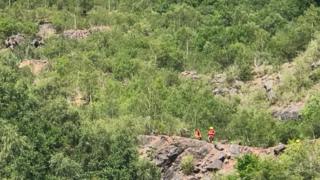 Three friends and a dog who got dangerously close to falling in a quarry have been saved by firefighters.
South Wales Fire and Rescue Service said it got a 999 call from a man "holding on" to a tree over the quarry in Risca, in Caerphilly county, at 14:15 BST on Saturday.
Specialist rope crews rescued the man, who was "convinced" they would not find him in time.
Another friend and a dog were also saved - a third got himself down.
SWFRS confirmed no-one had been hurt in the incident, which happened as firefighters across Wales dealt with a number of wildfires in the rising temperatures.
It said the three young adults had got themselves in a "precarious position" and at risk of falling off a ledge into the quarry near Darren Road.
The service said the man who was clinging to a tree remained on the phone and was given advice from the control room while firefighters searched for the friends high up on the quarry face.
It took two hours for firefighters from Risca, and rope rescue crews from Malpas and Ebbw Vale, to rescue the friends and their dog.
"The crews were faced with particularly arduous conditions owing to the extreme temperatures, loose shale and step faces within the confines of the quarry," SWFRS said.
"We would like to remind members of the public that such areas are very hazardous and should not be entered."