Hirwaun's fire-hit mum's new home search 'a nightmare'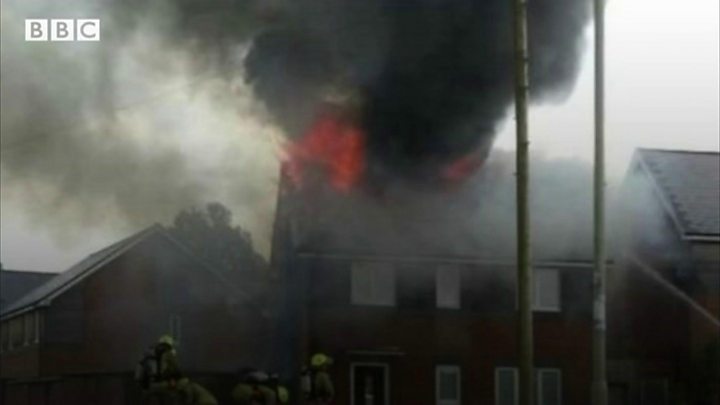 A mum of seven whose house in Rhondda Cynon Taff burned down six weeks ago has described her search for a new home as a "never-ending nightmare".
Alina Joseph and her children have been living in hotel rooms since the fire at their Hirwaun home.
She claimed she asked for help from Rhondda Cynon Taf council, but there was "no plan in place" and she had been given "empty promises".
The council said it had been working hard to find a home for the family.
Since the fire, Ms Joseph has lived in three different hotels and is currently based in Llantrisant, which is as much as an hour's drive from her hometown.
Speaking to BBC Radio Wales, Ms Joseph said: "I'm slowly, slowly trying to recover. It's just been my world is just turned upside down... nothing's been sorted out.
"There's no routine, even to the point of just trying to make food for the children - I'm having to sneak about like a thief just to make food for the children.
"Three of the younger ones are suffering from nightmares, their sleep patterns have been disturbed - they're all over the place... life has just been disrupted in such a way it's impacting on some of the older children's health, my health, physically, emotionally.
"The kids have had to poke me and say 'Mum are you OK?' It's not fair on them because they need me to look after them not them to look after me."
Ms Joseph says the council could do more to find her a home.
"I appreciate that they have an issue and get social housing from the local authorities and that's been ongoing because of the shortage in housing, but I don't sympathise with them at all because they haven't really shown any empathy for me and what I'm going through."
But the council said it had been supporting the family by providing temporary accommodation and had been in regular contact with Ms Joseph.
"The council and its partners are working hard to find permanent accommodation that meets the needs of Ms Joseph and her family, however, this is proving challenging because of the limited availability of suitable accommodation that meets Ms Joseph and her family's particular circumstances and preferences," a spokesman said.
"However, from next week, more suitable temporary accommodation has been found for the family whilst we continue to work towards finding them a permanent home.
"The council appreciates the distress this incident has caused Ms Joseph and her children, and we are doing everything we can to assist."