Monmouth's colourful Church Street 'closed for business'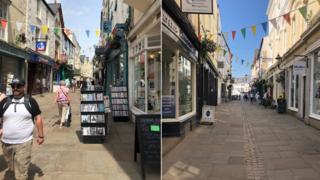 It was the most colourful street in a historic market town but now looks like it has been "closed for business", according to traders.
Along with bunting hanging across Church Street, Monmouth, there was once potted plants, tables, book stalls and fruit and veg on the pavements.
But since Monday, it has been bare.
Monmouthshire council said new restrictions on placing items on streets will make its towns more accessible to the public.
However, Church Street's greengrocer lamented the loss of his "tourist attraction" display of colourful produce and the book shop owner is considering closing her business in protest.
Even local MP David Davies has got involved and urged fellow Tories running the council to take a "common sense" approach.
But campaigner Nathan Davies called the move "refreshing" and said disabled people have been considered as equal members of the community.
Since Monday, more than 2,300 people have signed an online petition saying how they fear the area's "vibrancy and buzz" has been destroyed.
Greg Thomas, who started it, said: "I'm afraid that Church Street will die and no one will realise that the street is open."
The saga started when Monmouthshire council wrote to all businesses in the local authority area in January outlining its intentions.
In the letter, it said while it recognised the "colour and vibrancy" displays give to the character of towns and villages, it had a statutory duty to "maintain the footways primarily for the unhindered passage of pedestrians".
The council's head of operations Roger Hoggins said the intention was to provide "safe routes" for buggies, wheelchairs and people who are visually impaired.
He said there had been an extensive consultation, adding: "This should not really be a surprise to anyone.
"We have wonderful town centres and we are just trying to make them accessible to all."
Mr Hoggins said the council would not be giving "on the spot fines" for those breaking the rules.
Instead, it would work with businesses affected and issue permits for boards, chairs and tables that had been placed safely and securely.
However, for Cara Worgan-Ball, who runs The Chop Shop barbers, this would amount to about £250 this year for the two potted plants, table and chairs she had outside.
"They said no displays for health and safety reasons, but I don't see why it's the okay if you pay a licence fee," she said.
"It looks boring. It had lots of individual businesses and looked like a cute street. But it seems like it is closed now."
Phil Munday's fruit and veg displays dominated the pavements for more than 30 years.
However, he estimates for his two 6ft (1.83m) tables he placed boxes on, he could have to pay about £300 a year but said he will refuse to out of principle.
"Why now during difficult times? We've just had three of the worst years trading since I've been here," he said.
"Television shows have filmed out the front and it had become a tourist attraction as I think we are the last greengrocer's left in Monmouthshire."
Sam Porter, who runs Stephen's Bookshop said it has left her so upset, she is considering closing her business.
"Small shops have always put tables, chairs and drapings out," she said.
"If we can't now, I may as well pack it in. I have been doing it for well over 30 years, I'm not going to start paying now."
Monmouth MP Mr Davies has written to council leader Peter Fox outlining how shopkeepers and residents see the displays as part of the town's "distinctive beauty".
"I understand the council has been contacted by disability groups who are concerned about the legality of some of the street furniture," he said.
"The local authority is trying to balance the rights of shop owners and disabled people in a sensible fashion."
While he described the situation as a "conundrum", disability campaigner Nathan Davies said it seemed like a "really good and fair idea".
Mr Davies, from Wrexham, who has a progressive nerve disease, believes the "innovative" move shows consideration for the whole community.
He pointed to how businesses could still have on-street furniture as long as it was safe.
"We deserve equal access and the opportunity to fulfil our potential alongside the rest of society," he added.
"Parents with pushchairs and prams will also benefit.
"Everyone seems to be a winner and it would be great to see other local authorities follow the lead of Monmouthshire."