Police car collides with bus in Newport, injuring 10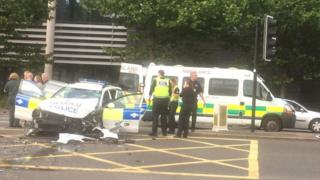 Four people were taken to hospital and six more received minor injuries when a police car answering an emergency call collided with a bus.
Two officers were among the casualties taken to hospital following the incident near Newport Centre leisure facility at 19:00 BST on Wednesday.
The driver of the police car received head injuries and a fractured wrist.
None of the other casualties was thought to be seriously hurt, Gwent Police said.
The Newport City bus had been turning right from the southbound carriageway towards the bus lane leading to Newport Centre.
The police vehicle, travelling in the opposite direction, collided with its side.
Eight people on the bus reported minor injuries and two were taken to hospital as a precaution, along with the officers.
Police are appealing for dashcam footage of the collision or the police vehicle before the collision.