Anthony Bubbins death: Man guilty of killing coin collector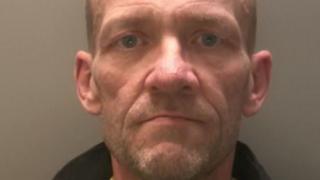 A man who killed a coin collector and sold some of his possessions has been found guilty of manslaughter.
Paul Paget, 54, had admitted causing the death of Anthony Bubbins, 57, at his home in Newport - but denied it was intentional.
He had admitted burglary, but denied murder, at Newport Crown Court.
Paget had claimed the fight broke out because he believed Mr Bubbins had sexually assaulted a man.
He will be sentenced on Friday, 29 June.
A jury was told Mr Paget invited Mr Bubbins to his flat for cottage pie on 9 January.
The defendant said Anthony Bubbins had sexually assaulted a man called Jonathan Browning, who had been found dead in the car wash of a Tesco store in Newport in January.
He claimed this is what led to the struggle.
The pair got into a fight and Mr Paget said as they struggled, he "grabbed his legs, took his laces out" and decided to tie up Mr Bubbins.
He described Mr Bubbins as "taunting him" over Mr Browning so he put a sock in his mouth after repeatedly telling him to shut up.
The sock obstructed Mr Bubbins' airway and killed him.
However, the prosecution had argued that Paget killed Mr Bubbins so he could steal and sell his possessions.
Jurors had heard that between 10 and 15 January, Mr Paget made three trips to Newport shop City Treasures.
He sold items including gold sovereigns, an RAF medal, a Tale of Peter Rabbit coin, statues and other coin collections, for a total of £925.
Mr Bubbins' body was found on 15 January and Mr Paget was arrested in Cornwall the following day.
The court was told he had lived like a hermit and had spent his life building up a large collection of rare coins and ornaments.