Cardiff buskers will need permits to perform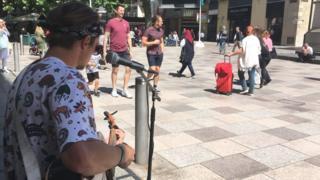 Buskers will have to submit audition tapes of themselves in order to perform in Cardiff from next month.
Cardiff Council is introducing a permit scheme from 1 July aimed at improving standards of performers.
A code of conduct had been in place for more than a decade but the changes are in response to complaints from businesses and visitors.
Similar permit schemes operate in other cities such as London, Oxford, Hull, Portsmouth and Belfast.
Harpist Sam Hickman welcomed the move.
She said: "I think slightly more regulation is good. I've been doing this in Cardiff for almost eight years as a day job and I really like it because I get so much work from it.
"I think it's a step in the right direction. I like that it's not fully regulated because that deters a lot of people but at the moment there's so few of us."
However, busker Luke Ashley was "very concerned" by the introduction of the scheme.
"We are going to weed out the people who are basically just punching a guitar but you're affecting people's income. It's the only way some people make money," he said.
"It's also going to affect the atmosphere in the city centre.
"We're coming out here to showcase what we've got for free. We're treated like a nuisance rather than an asset."
A Cardiff Council spokesman said: "Following a significant number of complaints from city centre businesses and visitors the council has concluded that the code needs to be revised.
"As a result, the council has looked to adopt the arrangements which have been operating successfully in other UK cities... where buskers are required to obtain a permit to enable them to perform on the streets."
The spokesman said the council "will not be operating a heavy handed approach" but stressed the aim was "to improve the overall quality of the visitor experience".