David Pearce: Statue of 'Newport's Rocky' to inspire boxers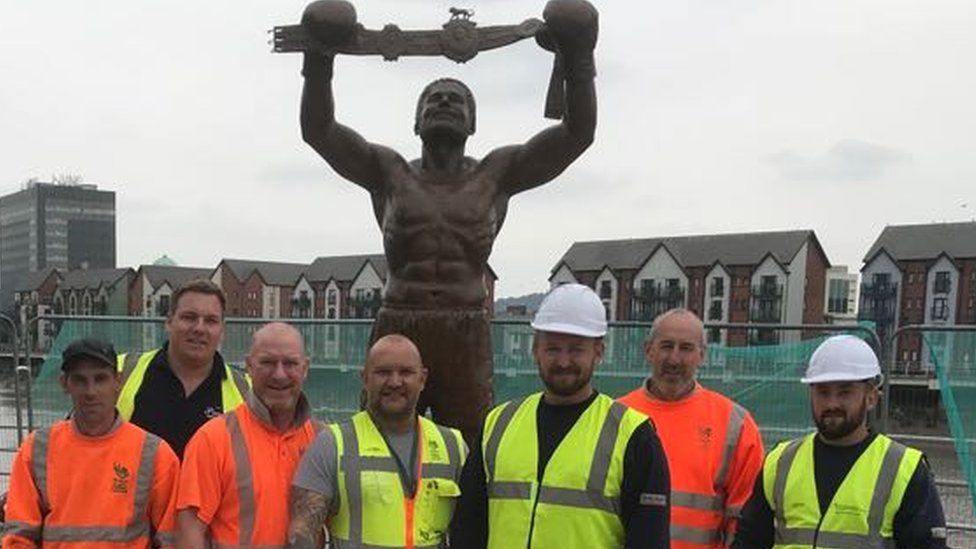 Relatives of the boxer dubbed "Newport's Rocky" say they hope a statue of him will inspire kids in his home town to "realise their dreams".
The bronze sculpture of former European heavyweight title challenger David Pearce has been built next to the River Usk.
Campaigners raised £61,000 for the statue of the former British champion, who died in 2000 aged 41.
"It's great the people want to remember him," said his nephew Luke Pearce.
"He was a true man of the people - and when he won the British title he said he did it for Newport.
"He'd be humbled by the people helping contribute to a statue, which show how much he means to them."
The former steelworker, from the Pill area of Newport, was widely regarded as one of the most exciting and under-rated heavyweights of the 1980s after beating Swansea's Neville Meade to the British title in September 1983.
After his victory over Meade at St David's Hall in Cardiff, Pearce said: "I did it for Newport."
Boxing fans from as far afield as Canada and Bermuda helped support the fund-raising effort.
A committee organised concerts, fun days and a sponsored 'sleep on a park bench' to help raise cash to pay for the statue, which was created by award-winning sculptor Laury Dizengremel.
"The sleepover was because David had to sleep on a park bench before his European title with Lucian Rodriguez in France in 1984," explained Luke, a 36-year-old RAF officer.
Despite sleeping on a park bench and suffering a broken hand, Pearce knocked down defending champion Rodriguez twice before losing on points.
He was linked with big fights against Buster Douglas and Leon Spinks, but his career was cut short when brain scan irregularities led to his boxing licence being revoked by the British Boxing Board of Control.
Former IBF featherweight world champion Lee Selby and Newport mayor Malcolm Linton unveiled the statue of Pearce early on Saturday evening , opposite the city's Friars Walk shopping development.
"David's family are so pleased and proud that his statue will be in such a prominent position in Newport, the city he loved," added Luke.
"We hope that he can inspire the kids of Newport and show with desire, hard work and ability you can realise your dreams."