Plastic pollution: Litter in Cardiff rivers 'shocking'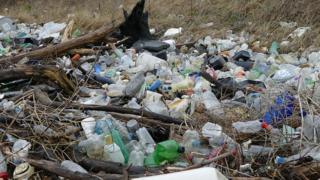 Pollution in Cardiff's rivers has reached a "tipping point" say volunteers dealing with a seemingly never-ending clean-up of litter.
Piles of plastic bottles and takeaway cartons are being collected every month by community groups in the city.
One volunteer described seeing a swan's nest made of plastic bottles, while another said at one point the River Taff was a "sea of plastic".
Cardiff council is looking to increase mass clean-ups to tackle the problem.
The council is considering asking if Tesco could give Keep Wales Tidy up to £5,000 a month from the 5p carrier bag charge to help fund the clean-up of the rivers.
It is also looking at using canoeists and boating clubs to police the rivers - but many groups are already taking matters into their own hands.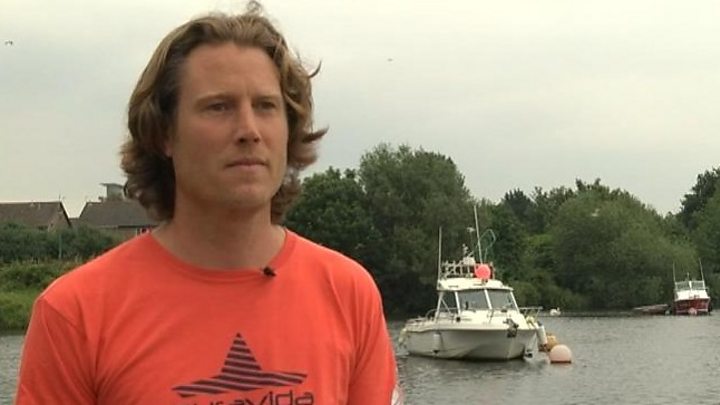 Alex Finley, one of a group from South Wales Paddle Boarders who took to the River Taff last week, said they were coming across a "shocking" amount of plastic in the water.
The volunteers - the youngest aged eight - picked up about 20 bags-worth of litter from the river in an-hour-and-a-half after being inspired by the Volvo Ocean Race.
"When you paddle up the Taff it's just idyllic, but when you are picking up so much plastic you start to wonder what sort of water you are in," he said.
Plastic bottles, beer cans and broken-up takeaway boxes made up the majority of their loot - but the group also found bike tyres and a number of plastic ducks.
"It was just phenomenal - we couldn't believe it," he said.
"I came round this one corner and it was just a sea of plastic. For about 100m you could barely see the water. It was just grim."
---
What's the problem?
The Taff, Ely and Rumney discharge into the estuary in Cardiff, with rubbish washing down and collecting in Cardiff Bay, where the barrage stops it floating out to sea.
Cardiff Harbour Authority collects an average of 430 tonnes of rubbish and natural debris from this area each year.
Last year a large part of the Ely was classed as "bad" - the worst water quality classification from the EU's Water Framework Directive - and a survey found hundreds of fly-tipping hotspots and previously unknown sewage pipes.
Five sections of the River Taff and one section of the River Rhymney were also classified as "poor".
A council report said it was due to human activity, including sewage, industrial pollution, and incorrectly plumbed toilets and showers. It is hard to pinpoint a source as the litter can be washed-up from miles away.
There are concerns about the impact on wildlife.
---
In April, a group of volunteers gathered its largest haul of rubbish from the banks of the River Rhymney, off Lamby Way, picking up more than 150 bags-worth of rubbish in less than two hours.
Formed in 2009, Cardiff Rivers Group now has about 500 people on its mailing list and does large clean-ups in the city every three weeks.
David King, one of the initial founders, said the impact of Blue Planet II had led to a surge in support.
While he had not seen an increase in plastic bottles over the years, the group were coming across large volumes of plastic and struggled cleaning-up broken up polystyrene, he said.
Mr King said he had seen a gull pick up and eat a latex glove - but been unable to reach it - and volunteers had picked sanitary products from trees after heavy rainfall.
"I think it is definitely a tipping point," said Mr King, who called on the UK and Welsh governments to act.
"There is a huge opportunity with people wanting to make a difference, the governments need to be a lot stronger, stop talking and just do it - stop making the stuff."
Cardiff council has set up a task and finish group and is working with organisations and volunteers to try to tackle the problem of litter and pollution in the rivers.
Dai Walters, natural resources management team leader from Natural Resources Wales - which manage the rivers - said: "We all have a responsibility to keep our rivers clean.
"By disposing of our rubbish correctly and checking for misconnections in our properties, we can make sure our rivers are healthy for future generations."
The Welsh Government said it was already taking action to reduce plastic waste - such as a re-fill water scheme on the Wales Coast Path - and it needed to "take a comprehensive, well-thought-out, long-term approach that has a positive long-term impact on reducing plastic pollution".
Tesco said it had awarded over £3m in grants to community projects in the UK from the carrier bag levy.