Asylum seeker who raped student on Cardiff night out jailed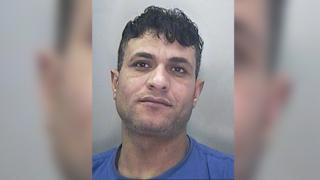 An asylum seeker who lured a student to his house and raped her before fleeing the country has been jailed.
Mohamed Amin, 39, targeted his victim after she became separated from friends and dropped her phone down a drain during a night out in Cardiff in 2015.
He fled to Ireland, but was brought back to Wales and found guilty of rape.
At Newport Crown Court Amin was sentenced to 14 years - 10 in jail and four on licence - and will be deported back to Egypt afterwards.
The court heard how Amin, who came to the UK in 2012 as an asylum seeker from Egypt, had spotted his 18-year-old victim trying to recover her phone from a drain in January 2015.
A police officer who spotted her said she was "very distressed" and was trying to pull off the drain cover to get at her phone.
Amin pretended to help, before persuading her to get in a taxi back to his home, the court heard.
There, he pushed her into a shower and washed her down before raping her.
Amin fled the UK, but in April 2017 he was found and arrested in Dublin, and brought back to face trial.
In an impact statement, his victim said she blamed herself for the attack and considered ending her life.
Reading from the statement, prosecutor Roger Griffiths said she was left feeling "dirty and abused".
He said she developed an eating disorder which she believed would have killed her if it had not been for the support of her family and friends.
"This will stay with me for life. I do not know when my mind will escape from this trauma, or when I will be able to get a full night's sleep," the statement said.
Ruth Smith, defending, said Amin had no previous convictions and a family in Egypt he had not been able to provide for following his arrest.
Judge Thomas Crowther said he "presented a serious risk of causing further significant harm to women".
He added: "You spotted a very distressed young woman and manipulated her into a position where she thought you were an ally or a friend, and having done so you took advantage of her."