'I want to be a nursery nurse. I would just love that'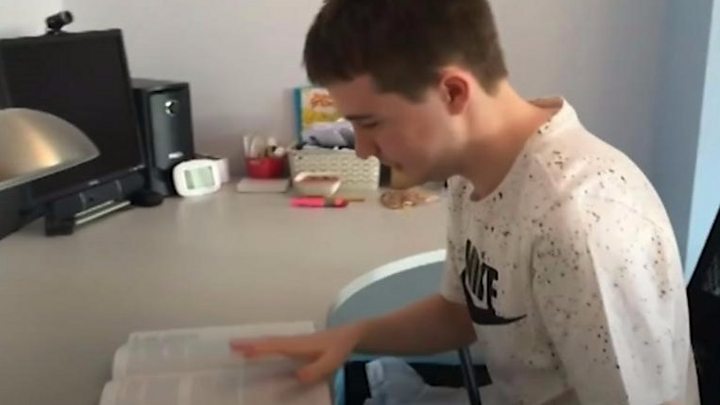 It is exam season. And that means a stressful time for many teenagers.
But for one 18-year-old from Newport, whose A-levels start today, it is not so much stressful, but an opportunity to fulfil his dream.
Jon Jones has cerebral palsy and anxiety, and has ambitions to be a nursery nurse.
"Many people have dreams of being a footballer, being a scientist. All I want to be is a nursery nurse. I would just love that."
Jon, who goes to Caerleon Comprehensive School, is studying history, religious education and the Welsh baccalaureate.
"My favourite one is probably learning about Judaism in R.E. It's so fascinating," he said.
Support from teachers and friends had been "absolutely phenomenal", he added.
"I've had teaching assistants to help me in my lessons - they've been scribes for me, especially Mrs Upton, she's been absolutely phenomenal.
"I proved to the teachers and all my classmates I am doing really well, and much better than they thought I would be doing."
Jon also volunteers at a local children's centre, Serennu, where he helps children with disabilities.
He said it had been inspirational, adding: "I love every bit of it and I would absolutely love it if I could be a nursery nurse - that would be my dream come true."
Jon has been given a conditional offer at university where he hopes to study early-years education, after which he would like to study for a Postgraduate Certificate in Education (PGCE).
"If I go to university, I complete my three years and get that PGCE, well, then I can do whatever I want - I'm free - free as a bird!"
What is cerebral palsy?
It is an umbrella term for conditions affecting movement and co-ordination, caused by a problem with the brain that occurs before, during or soon after birth.
About one in 400 children is affected.
Some people with it have tight muscles, limiting their range of movement, while others have muscle spasms or difficulties with spatial awareness.
Cerebral palsy can cause epilepsy, hearing, communication or learning difficulties and issues with feeding and behaviour in some cases.
While the condition cannot be cured, therapies such as physiotherapy, occupational therapy and in some cases surgery can help manage symptoms.
Source: Scope
According to Richard Luke from disability charity Scope, it is not rare to find people with cerebral palsy in teaching.
However he told BBC Wales: "What is rare is a young man his age, with everything he's had to face, is keen on a career in nursery nursing.
"It think it's amazing that he's chosen a less worn career path for somebody with an impairment and somebody who's male.
"Not only is he taking A-levels with its academic strains but the physical aspect of studying - writing, moving around the school - it's very tiring."
Mr Luke, who also has cerebral palsy and went to a mainstream school, added: "It's the physical fatigue, just physically moving from A to B, carrying your books. The nuts and bolts of being a student."
He praised the school for the support they had shown to Jon.
"We're very keen to promote the social model of disability. Caerleon Comprehensive are obviously doing a great job providing the support that Jon needs to have a level playing field.
"Jon's school have identified where he needs support and have put in support in school which makes his impairment irrelevant."