Ffos-y-Fran: Clean-up row over opencast mine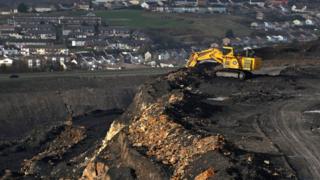 The owners of an opencast mine in Merthyr Tydfil have been accused of trying to "wriggle out" of their obligations to restore the site, a court has heard.
Merthyr Tydfil County Borough Council has taken the owners of the Ffos-y-Fran site, Blackstone South Wales limited, to the High Court.
The council claims the group has failed to pay money into a restoration fund.
It argued Blackstone had agreed to make quarterly payments of £625,000.
The payments would have amounted to a total of £15m when coal extraction finished in 2022.
The court heard the authority believes it is is owed around £5m in payments into the fund.
However, Blackstone argued the agreement was flexible and allowed for the full amount to be paid when coal extraction finished.
'Having it both ways'
Merthyr Tydfil council rejected the assertion, saying it would not have agreed to such a deal as it offered no guarantees that restoration obligations would be met.
It said an agreement was struck for quarterly payments. If a payment was missed, it was owed on top of next payment.
Blackstone argued the flexibility in the deal allowed it to make payment as and when it liked.
Hugh Sims QC, for the company, argued Merthyr Council "couldn't have it both ways" and that the money either had to be paid quarterly or could be rolled on.
Responding to Mr Sims arguments, Matt Hutchings, QC for the local authority, said it would be "extraordinary" if the parties had envisaged one payment of £15m due in June 2022.
He argued that a company with an annual operating profit of around £10m was unlikely to be able to find the funds needed for the final payment in one lump sum.
"What security does the council have? None," he said.
The court heard that total restoration costs had been estimated at around £62m.
The judgement is reserved.