Young carers: 'I wouldn't be here if it wasn't for him'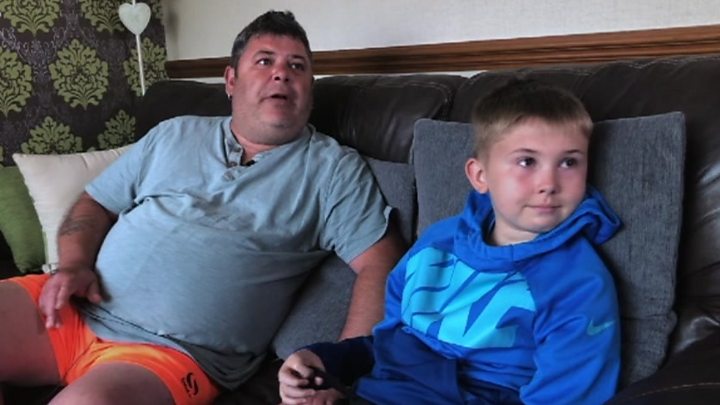 Stuart Gumm says he owes his life to his 12-year-old son.
"Hats off to him. I wouldn't be here if it wasn't for him, and he knows it."
The 52-year old father of two, from Talywain near Pontypool, Torfaen, had a serious mental breakdown four years ago and said young carers need to be recognised and given as much support as possible.
Diagnosed with severe anxiety and depression, he now rarely leaves the house and has regular panic attacks.
"It's a continuous fight against something that controls my mind, really - if something nice happens, it tends to give me something bad the next day," he confessed.
"I could quite happily leave this world on those dark days, and if it wasn't for him and my family, I would.
"He recognised those darkest moments in me and gives me that extra will to fight, to carry on.
"He recognises and consoles, he makes me laugh, he tells me about his day, he'll sit next to me and hold my hand, show his love and basically shows me how much I'd be missed.
"My whole family are important, but he just gets it - he gets what's wrong and where he gets it from I do not know."
It is not easy for Carwyn to talk about what happened to his dad - it is upsetting for him to remember what Mr Gumm was like during his darkest days.
"That I just feel that he isn't acting as normal, so I think to myself 'Something's not right here'," said Carywn.
"I just try and find out what's wrong without him knowing, because I don't want him worrying about me, so I can just be my best.
"Sometimes I try to forget about it, but it's not that easy. I just want him to feel better."
Carwyn was recently presented with a 'Pride of Gwent' award, organised by his local newspaper, but insisted he does not really know what all the fuss is about.
"I don't really think about it in school, because obviously I'll be with my friends, but the teachers don't know," he said.
"I guess if they understood why I wasn't in it would help in a way.
"If I can do it anyone can, really.
"I would just say if you don't know what's going on, just do your best, and your best is good enough."
Proud father Mr Gumm said he feels immense guilt - his son has feigned illness to avoid school to look after him.
"I feel it's my burden on him, but he doesn't see it that way. He never has. The schools have been supportive of the fact that I'm ill, but they don't quite know exactly what's going on," he said.
"We don't go into detail about things, but hopefully [speaking out] like this will help people understand.
"He's doing well at school, thankfully, it's had no impact on his learning.
"I'm sure people will think 'Well if he was in school more often he'd be doing even better', but since seven years of age he's prioritised me.
"I've never felt so much love for anybody. I haven't got half the strength this boy's got."
He said there must be thousands of young people who help as Carwyn does.
"One of my main worries is the effect this might have on Carwyn as an adult," he added.
"For a young boy to take all this on, someday it might have an impact - let's hope not - but there will be thousands of children out there who are going through exactly the same.
"The more support networks there are, the better."