Drug arrests after Bridgend boy, 11, left 'zombie-like'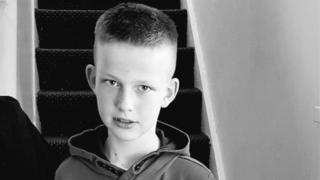 A man and a 13-year-old boy have been arrested after a schoolboy was left critically ill when he allegedly smoked the synthetic drug Spice.
Logan Johns-Evans, 11, from Bridgend, was found unable to walk or speak and "like a zombie" by his mother.
He was treated on a high dependency ward at the Princess of Wales Hospital for 33 hours.
Police said two individuals were questioned over alleged involvement in the supply of a Class B drug.
Logan's mother Jade Johns, 31, said they believed someone had spiked a cigarette that he had smoked.
She said he was unable to walk or speak when she went to wake him for school last week.
"In hospital he became angry and he had so much strength but the doctors said he didn't know what was going on. It wasn't an 11-year-old child inside that body," she added.
South Wales Police said the two individuals, a 32-year-old man and the teenage boy, have since been released, but remain under investigation in relation to the incident.