Bridgend boy, 11, 'zombie-like after taking Spice'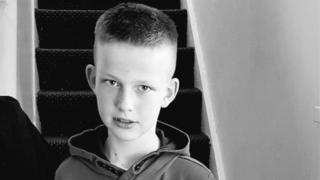 An 11-year-old boy was left critically ill after allegedly smoking the illegal synthetic drug Spice.
Logan Johns-Evans, from Bridgend, was found unable to walk or speak and "like a zombie" by his mother after smoking what he believed to be a cigarette.
His mother Jade Johns, 31, took him to the Princess of Wales Hospital in Bridgend, where he was sedated and put in a high dependency unit for 33 hours.
South Wales Police has been approached for comment.
The family said they were told someone had put the drug in his cigarette.
Ms Johns found Logan when she tried to wake him up for school last Monday morning and found him to be unable to walk or speak.
She took him to hospital and five doctors had to sedate him because he was able to "headbutt, kick, bite and growl".
She said: "He was like a zombie. A monster had taken over his body and he had so much strength it was unreal.
"In hospital he became angry and he had so much strength but the doctors said he didn't know what was going on. It wasn't an 11-year-old child inside that body.
"My daughter told me he had been smoking and someone came forward to say someone had put Spice in his rolly [sic] as a joke.
"People need to be aware because he came home on the Sunday and ate his tea as normal - it was a delayed reaction.
"This drug is a killer and it's killing adults."