Donations for Hirwaun family of seven after fire guts home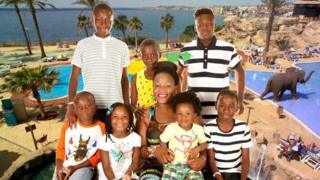 A mother of seven whose family's home was destroyed in a fire said she is "beyond overwhelmed" by the support she has received from her community.
Alina Joseph, 38, was at work on Saturday when her son Christian, 19, called to say their shed was on fire.
He and his six siblings fled the house in Hirwaun, Rhondda Cynon Taff, minutes before the blaze spread to their home.
People have now donated clothes, food, furniture and money to replace possessions lost in the fire.
Emergency services were called at 14:40 BST to the blaze, which quickly tore through the house and its roof.
Ms Joseph said she could see the smoke as she made her way home from working at Tesco in Aberdare, three miles (5km) away.
She said: "When I got to the house the fire brigade was already there. They were trying their best, by then the roof was burning. There was nothing we could do."
Cynon Taf Community Housing Group, which owns the house, has offered the family two temporary homes, but they are staying with friends to avoid being split up.
When they learned the family did not have any insurance to replace their lost possessions, neighbours began collecting donations.
Bags of clothes and food have been given, items of furniture have been promised for when they get a new home, and more than £300 was raised online.
Ms Joseph said: "I am beyond overwhelmed with their support. I am very sad but seeing everybody coming together and helping us... I really can't believe it.
"There's no amount of thanks to express how grateful I am."
Sharon Hawkins, who started the collection, said people had been happy to help, adding: "We've had a lot of help from the community, they've been brilliant."