Cardiff cyclist death crash driver Eurico Costa jailed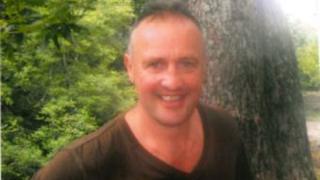 A driver has been jailed after killing a cyclist when he lost his temper during a row with his girlfriend.
Eurico Manuel Costa, 34, of Rumney in Cardiff, admitted causing Paul Garret's death by dangerous driving.
Father-of-three Mr Garrett, 55, died after being knocked into the air by Costa's Ford Focus in Cardiff in October.
At Newport Crown Court, Judge Daniel Williams jailed cafe worker Costa for four-and-a-half years.
The court heard Costa, who was also banned from driving for five years, had been arguing with girlfriend Iola Waters, 26, when he veered across the road.
Costa drove "extremely aggressively" on the wrong side of the road and hit Mr Garrett head-on at Pencisely Road in Llandaff, the court was told.
As Costa and his girlfriend stumbled out of the car, the court heard she screamed at him: "What have you done - oh my god what have you done?"
Costa pleaded guilty to death by dangerous driving but claimed to have lost control while adjusting his sun visor.
But prosecutors said Costa grabbed the visor in a rage after rowing with Miss Waters - and hit Mr Garrett.
His two sons Aaron and Ryan passed the scene shortly after the tragedy, without realising their father was involved.
In a victim impact statement Mr Garrett's wife Karen said: "He was my rock, I can't begin to describe the pain, heartache and stress this has caused the family.
"I never thought I would lose the love of my life in such a cruel and tragic way. Nothing will ever fill the role of Paul - I am totally broken."
In mitigation, Costa said it was an accident, claiming he had broken the visor when he tried to adjust it as the sun was in his eyes.
As he jailed him, Judge Williams told him "[you] tried to scare your girlfriend to force from her an answer and it led to a horrendously dangerous piece of driving".