Beirut-based magician in Cardiff for fundraising show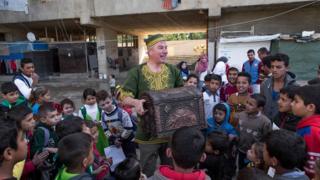 A Beirut-based magician who performs for child refugees from Palestine and Syria is performing a fundraising show in Cardiff.
Jamie Jibberish, of Magic for Smiles, will make a special visit to Insole Court in Cardiff on Sunday.
Jamie said: "The smiles and sheer joy on the faces of these children is the driving force behind my work."
He will be accompanied by Patchwork Musicians, a small group of professional musicians.
Jamie uses gibberish language to show a feeling of excitement at the magic.
These children have experienced terrible trauma and deprivation.
He has spent most of his career working with charities in the Middle East and North Africa.
Magic for Smiles is an initiative for refugees and other vulnerable children in Lebanon and the surrounding region.