Plaque for World War Two Dambuster pilot is unveiled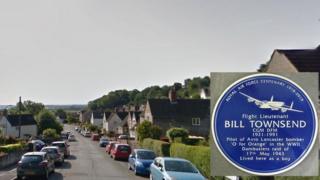 A plaque has been unveiled later to commemorate a Monmouthshire town's Dambuster pilot.
Chepstow Town Council marked the 75th anniversary of the World War Two bombing raids with the memorial on the former home of Flt Sgt Bill Townsend.
There was also a fly-past by a Lancaster Bomber.
Meanwhile, a relative of another Dambuster will unveil a memorial in the Netherlands to him and his crew, who died when their plane was shot down.
Flt Sgt Townsend, the pilot of AJ-O "Orange", grew up in Chepstow and attended Monmouth School from 1932 to 1940 where he served as a prefect and monitor.
He led the final wave of six Lancaster Bombers on the dams of the Ruhr Valley in Germany and was awarded the Conspicuous Gallantry Medal.
After the war, he settled in Bromsgrove, Worcestershire, with his wife Eileen and their children. The couple ran a pub before he moved into the civil service and he died in 1991.
Meanwhile, the second cousin of another Dambuster will fly to the Netherlands on Friday to unveil a memorial to him and six crew members who were killed when their plane was shot down.
Gordon Yeo, aged 21, from Barry, Vale of Glamorgan, was one of 133 airmen who participated in the Dambusters mission which saw "bouncing bombs" target dams in Germany overnight on the 16/17 May 1943.