Investigation begins into Barry former social club blaze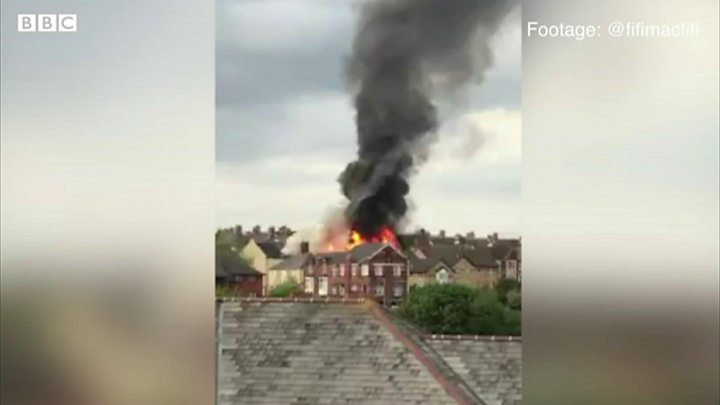 Fire crews have begun to investigate the cause of a blaze that engulfed a derelict former social club overnight.
One home had to be evacuated at the former Barry Docks Conservative Club in the Vale of Glamorgan town.
The fire, which started at 20:10 BST, broke through the roof but did not spread to nearby buildings.
It was put out at 01:10 by about 40 firefighters but people have been advised some roads near Station Street will shut for three weeks.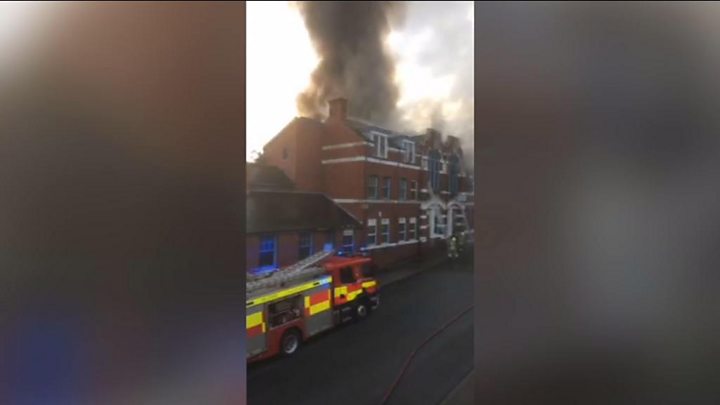 Eyewitness Fi Macfarlane said: "Initially you could just smell the smoke, even though the windows and doors were closed, and then shortly after that you could see the flames licking the roof tops.
"Not knowing exactly what was alight, that was quite concerning. That's quite a residential area."
"This morning there has been a very strong smell of smoke throughout Barry and down towards the dock area," she added.
Two crews remained on the scene on Wednesday morning damping down, with a meeting planned to assess the building.
Dock View Road was blocked due to the number of emergency service vehicles in the area and Station Street closed.
The family who had to move from their home at the rear of the club went to a relative's house, police said.
A Vale of Glamorgan council spokesman said: "The section of road to be closed is from the junction of Dock View Road to No 35 Station Street in a north-westerly direction for a distance of approximately 150m.
"The area of lane to be closed is to the rear of No 19 Station Street, continuing in a north-westerly direction to No 35 Station Street, a distance of approximately 50m.
"This closure will allow the demolition contractor enough time and space to safely remove any danger the remaining structure poses to the public."