Caerphilly could turn off all street lights to save £1m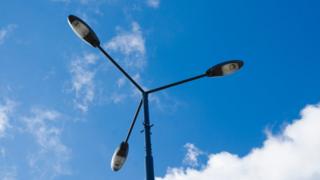 The majority of street lights in Caerphilly could be switched off, saving the local authority almost £1m.
The move could cut CO2 emissions by more than 3,000 tonnes, a Caerphilly County Borough Council report said.
But it could have a negative impact on vulnerable people and may lead to an "increased fear of crime".
Major junctions and large town centres would be exempt from the plans, which the council is yet to make a decision on.
Alternatives to a permanent switch off include converting all lights from sodium bulbs to energy saving LEDs and extending a partial night lighting system.
There is no statutory requirement for councils to supply street lighting.
Almost 5,000 street lights on roads between towns and villages have already been switched off between 0:00 BST and 5:30 in a "part night lit" scheme, according to a scrutiny report.
The council could now extend this across the county or switch all street lights off, except at major junctions, which the report said would save £925,105.
The report, put before councillors on Tuesday, said dimming or switching off of street lights could have a negative impact on people with visual impairments.
It added it may also affect vulnerable groups such as the elderly and lone persons in terms of feelings of vulnerability and an increased fear of crime.