50ft fall Cwmbran boy makes amazing recovery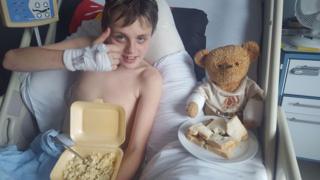 A smashed spine, brain bleed, punctured lung and a ruptured spleen - just some of the injuries teenager Callum Crowley sustained when he fell four floors from scaffolding.
His mother was told the Cwmbran 14-year-old might not survive and, if he did, he may never walk again.
But a year on from the accident, the schoolboy has made a remarkable recovery.
He told BBC Radio Wales he was amazed to have lived through the ordeal.
"Me and my friend went to go to the skate park - then I saw the scaffolding and I went to climb it," explained Callum.
"At the very top there was a ladder going up - so when I climbed it, one side wasn't in properly - it flipped to the side, and I fell."
And he fell 50ft (15m) in total.
Today, he has virtually no memory of the accident.
For his mother, Kate Sherwin, the memories are almost too vivid.
She went to the scene just minutes after he toppled from the ladder.
"As I went around the corner my neighbour was like 'don't panic'," she told the Good Morning Wales programme.
"A carer had seen the accident and came running over. She was keeping him still, keeping him calm.
"He was still talking at this point and said: 'I'm so sorry mum - it's my fault I'm going to die'."
She said she told him: "You've only fallen a couple of feet' - not thinking he'd climbed all the way to the top."
It took ambulance crews an hour to stabilise Callum before he could be taken to hospital in Newport, where he was put into an induced coma and then transferred to Bristol.
He needed an operation to pin his back together after he "smashed every single bone in his spine", said his mother.
In all, he needed 12 bolts in his spine, and doctors thought he would be in hospital for months.
But after five-and-a-half weeks he defied the medics - and was out of hospital.
However, it has still been a long road to recovery for Callum, who has an attention deficit disorder, and attends the Talocher special school in Monmouth.
But, after extensive physiotherapy, he is walking again - and in February he returned to classes.